Building Your Model Railroad
Newsletter - March, 2013
WELCOME to the 26th issue of BYMRr-Zine - a newsletter published by Building Your Model Railroad, devoted to providing breaking news and tips to model railroaders of all ages and all scales in a quick and easy-to-read format. Resources are always credited where appropriate.
Thank you for subscribing. We have lots of new tips and tricks this month to add to your model railroading pleasure.
Sign Up: If this has been forwarded to you by a friend and you have not yet subscribed, click here to get your own version sent to your email box free of charge every month.
Send in Your Tips/Comments/Suggestions: Let me know if you have any tips to pass on to other model railroaders. Just type them in on the Comments Page of the website or send me an email directly to [email protected]. In addition, if there is a particular topic you would like to see appear in the newsletter, let me know about that as well.
Photos: We're always looking for new photos for our Gallery pages. If you have photos of your layout that you would like to share with other model railroaders, I'd love to post them on the site. Send them in to [email protected]
Hint: Click on the pictures below to link to more information on the BYMRR.com website.
---
Need a Fast Clock?
Why go to the expense of buying a physical fast clock when you can purchase a virtual fast clock app to put on your iPhone or Android device. The app is called "Fast Clock" by Kevin Snow. It's very easy to use and has customizable faces and backgrounds. You can also customize the speed of the clock in various ways. It's available for download from the App Store. You can even use it on your iPad and set it up in the train room so everyone can see it during an operating session.
---
How Many Amps Do You Need?
First, you have to add up the amps for all of the of locomotives that you want to have running at any one time. Look at the information that came with each loco when it was purchased if that is available. If you don't have that information, you may be able to look it up online or use an amp-meter to measure the current draw from the system when only that loco is running.
Add up all the amps required to run the maximum number of locomotives that you want to run at the same time. Then, add up the number of amps of lights and other accessories that are attached to the track for their power. Add up all those amps and then you have an idea of what size booster you need. A large layout may require anywhere from 5-15 amps. You may have to buy 2 or 3 boosters and put them in series. The manual that comes with the booster should show you how to do that - usually by using an RJ-45 cable.
For more information see the article "How to Figure Power for a DCC System" in the April 2013 issue of Model Railroader.
---
How To Make Your Own HO Ballast
Mix equal parts of black and gray grout and then add sifted sand for more realistic texture. You then can install this homemade ballast the same as you do regular commercial model railroad ballast. Once it's been spread along the track, spray it with a mist of wet water (water with a couple of drops of dish soap mixed in) followed by diluted white glue, 3:1. The grout will dry hard with only water but the grout/sand mixture needs the glue to prevent it from crumbling. (This was a tip that I found in the April 2013 issue of Model Railroader written by Bill Doll.)

---
---
Sound-Deadening Roadbed
Most of us have used cork or foam-type roadbeds to help deaden the sound and provide a smooth surface on which to lay tracks and ultimate run our trains. Another type of sound-deadening roadbed that can be used is a material called Aerotape. It can be found in the plumbing/insulation section of most hardware stores. This is a neoprene material that is simple to use, works well and is not very expensive. (This was highlighted in the April issue of Model Railroader by Joe Gill of Mimbres, MN.
---
Short Tips
~ Variety is the rule when it comes to scenery. All the trees and bushes shouldn't be exactly the same color, shape and size. It's just not realistic. If you buy trees that are already made and are all the same color, try dipping each one in hot water for a variable period of time from 1-2 minutes to wash out some of the dye. You can also spray some of the trees with hairspray and sprinkle on some varying shades of ground foam to add different shades of color and different textures.
~ Another tip along the same line is that you can change the season from summer to fall fairly easily just by spraying the green trees with hairspray and sprinkling on varying shades of ground foam in fall colors - yellow, red, orange, etc.
~ Install some dark blue overhead lights in your train room that can be operated by a different switch (preferably a dimmer switch) than your regular lights. When your fast clock approaches evening hours, you can gradually dim the regular overhead lights and slowly increase the intensity of the blue lights. In full night mode, you will have a pleasing hue of moonlight under which to run your trains.
~ If you are trying to attach two pieces of wire together, consider using a metal rail joiner and solder the wires to each end of the rail joiner. You could even make a small electrical board by using a rectangular piece of wood or plastic, gluing down a row of rail joiners all parallel to each other and using them as wire connectors. You could actually create your own power distributor, or make wire connections any way you want by connecting some of the rail joiners to each other. You could really get organized and color code your connectors by painting them different colors (or label them with numbers or words)) that correlate with where the wires are going. (Model Railroader, March 2013 by Nathan Kimmel, Reading, PA)
~ Consider using kitty litter (preferably before using it as actual kitty litter) for desert-like ground cover. Mix in sifted sand or tan grout and glue it down with diluted white glue. Add some sparse bushes, cacti and static yellow grass.
~ Stack up some pieces of pine bark mulch on the layout to create a simulated shale rock retaining wall. Glue the pieces together. Then glue in some vegetation in the cracks between layers of the pine bark. You could even use some terrarium-type air plants
.
~ Use your imagination. Look at everything in your environment as something that you could potentially use to create a scene on your layout. Pine cones, pine-bark mulch, sand, gravel, cement, baseball dirt, black sifted dirt that you find around the development of new roads, gauze, mesh, sticks, branches, sage, carpet, corduroy, scrap plastic parts from old building kits, tin foil, nails, toothpicks, Q-tips, old newspaper, magazine ads. The list goes on and on. That's part of the fun - creating something out of nothing!
---
Spotlight
This section is used to focus attention on outstanding model railroading websites or layouts.
Here is a great idea: Create an iCar by mounting an iPhone on it, and video your entire layout from the engineer's perspective! - A new take on the TrainCam concept...
The link to the You Tube video is here...http://youtu.be/lx4iuiP6AHk
If you have a layout that you think would qualify for this spotlight or if you know someone who does, please send me an email at [email protected].
---
Model Railroading Books!
Learn even more tips and techniques from these great

Model Railroading Books


available through Amazon.com.
Support this newsletter and the Building-Your-Model-Railroad website:

Browse our local online bookstore at the Track Stop.
---
Model Train Supply Store
Trains, tracks, electrical supplies, scenery, tools, paints, weathering supplies, buildings, locomotives with or without DCC, freight and passenger cars.
Available in all scales from 12 major manufactures!
---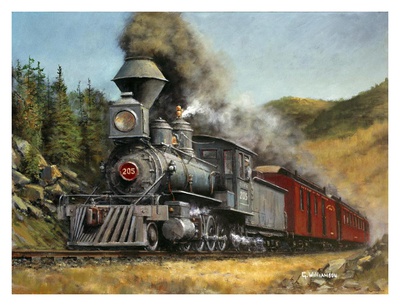 Mountain Goat
George Williamson
Art Print
Put a Poster in Your Train Room!
Great railroad posters and prints are available from art.com...
ART PRINTS - Art.com! - (Type trains in the search box)
Hope you enjoyed this issue of BYMRR-Zine. Feel free to pass it on to your friends, family and other model railroaders. If you have a great tip that you would like to publish here, please let me know - The more, the better. Any comments or suggestions are always welcome. Don't forget to send in YOUR tips! You can either go to the Comments/Contact Page and enter your suggestions there or contact me directly at [email protected]
Thank you for your support and for subscribing to the free BYMRr-Zine, the newsletter for Building Your Model Railroad.
And, as always, thank you for visiting the BYMRR website at
http://www.bymrr.com.
-Greg Warth

---
Copyright 2013. All rights reserved.
---