Building Your Model Railroad
Newsletter - April, 2013
WELCOME to the 27th issue of BYMRr-Zine - a newsletter published by Building Your Model Railroad, devoted to providing breaking news and tips to model railroaders of all ages and all scales in a quick and easy-to-read format. Resources are always credited where appropriate.
Thank you for subscribing. We have lots of new tips and tricks this month to add to your model railroading pleasure.
Sign Up: If this has been forwarded to you by a friend and you have not yet subscribed, click here to get your own version sent to your email box free of charge every month.
Send in Your Tips/Comments/Suggestions: Let me know if you have any tips to pass on to other model railroaders. Just type them in on the Comments Page of the website or send me an email directly to [email protected]. In addition, if there is a particular topic you would like to see appear in the newsletter, let me know about that as well.
Photos: We're always looking for new photos for our Gallery pages. If you have photos of your layout that you would like to share with other model railroaders, I'd love to post them on the site. Send them in to [email protected]
Hint: Click on the pictures below to link to more information on the BYMRR.com website.
---
Reference Photos
As you are planning your layout, if you're considering modeling a prototypical railroad, you will likely want to do some research on what that railroad is all about, what it looked like, what kind of stations were noted along the way, the railroad's purpose, what industries it served, what locale it was located in, etc. One of the best places you can go to find out information about your prototypical railroad is www.nmra.org. If you go to that site and click on NMRA Online Archives, you can find hundreds of prototype reference photos, which you can download - as well as drawings, diagrams and maps - for $2.00 each. You can also visit the online historical railroad society for that particular railroad and obtain a lot of information there as well.
---
Learn More About Locomotives and Railcars
If you would like to learn more about locomotives, both steam and diesel, and about all types of rail cars, you may want to check out the new Athearn 2013, Edition 1 catalog. You can download it free from the www.athearn.com website. It is a 120-page pictorial view with lots of great content about the locomotives, their paint schemes, how many were made and lots of other information which is not readily obtainable elsewhere. This is an awesome catalog that will serve as a great resource for you for many years, even if you never buy anything from the Athearn company.
---
Digitrax Toolbox
Digitrax now has a toolbox app for your iPhone device. You can download it from the www.digitrax.com website. It is actually a very handy app if you use Digitrax DCC equipment. Even if you don't, the Digitrax decoders are compatible with most other systems. The toolbox app contains a large amount of information about how to select the proper decoder for your locomotive. It even has a reverse selector, showing you how to select a locomotive for a decoder that you may have lying around. It has a complete set of manuals with step-by-step instructions. It also has CV calculators, videos and troubleshooting information which can serve as an extensive resource for you when you are trying to decide what decoders to use, how to program them, how to install them and what to do if you have problems, all contained within this free app. What a deal!
---
---
Create Miniscenes for Your Layout
One of the more fun things to do with a model railroad is to create little mini-scenes, many of which can be humorous but not necessarily. It can be just an interesting little scene that may be hidden away in the corner of your layout that may not be immediately visible but is a great surprise to those visitors who find it. You can actually have fun with your kids or your grandkids when they visit, asking them to find certain scenes in your layout that aren't readily visible when they first walk in the room. For example, you could have some rock-climbers going up a cliff. You can have divers diving into a lake or in the bottom of a lake covered with "water", looking for something. You can have hobo scenes or graveyard scenes where the casket has fallen over and the body is falling out. You can have little animal scenes, cow pastures containing droppings. You can have little scenes where children are playing baseball in the backyard of a farmhouse. These little details add a tremendous amount of character, humor and fun to your layout.
---
Learn to Build Craftsman-like Structures
Have you ever wished you could get into building quality craftsman-like structures just like the professionals do? How do you learn how to do this? Well, the answer is that you have to learn from a master and the best way is to either attend a model railroad conference where they show how to do these techniques or you could consider watching how to do this on DVDs or videos. One of the better videos is one produced by Bob Mitchell called "Tips for Building Contest-Quality Structures". You can get a huge amount of information by following along this video and watching the techniques that he has used for building awesome structures. The website where this is described is at www.fosscalemodels.com. This video was favorably reviewed by Dick Foster on page 68 of the March 2013 issue of Model Railroad News.
---
Short Tips
~ Gondola Loads: Use wheel sets, scrap metal, railroad ties, pipes, lumber, wooden dowels, gravel, sand, coal, concrete blocks or rocks. Cut out a piece from a styrene sheet to cover the bottom part of the gondola and then glue the materials on top of the styrene sheet. You may want to paint the styrene brown or black first, then glue the load materials on top of this sheet and then place it in your gondola.
~ Create laundry lines in the backyards of your houses by using red or yellow thread, stretching it from a tree to a railing on a house and then drape small scraps of fabric along the line.
~ An excellent way to create a more realistic backdrop is to take digital photos of the actual landscape of the area that you are modeling and then size them and print them on your home computer and then blend them into the foreground scenery on the layout. This works very well for treed or forested landscapes, for hills and mountains, and even for some cityscapes. If you add your own trees, bushes and buildings in front of these photographs on the backdrop, this sort of hides the fact that they are photographs and makes the whole scene much more realistic.
~ If you're just starting to build the benchwork for your model railroad you may want to consider using pre-cut benchwork specifically designed for use on a model railroad. You can find this pre-cut benchwork made using high-quality cabinet-grade plywood and pockethole screws so that assembly is actually very easy. You can go to the website at www.modelrailroadbenchwork.com to find everything that you need. You can choose from a large number of pre-determined sizes and you can even ask the manufacturer for a custom-built piece. The cost is reasonable and assembly is easy and certainly less messy than getting out the table saw and spreading sawdust all over your train room.
~ Many times in prototypical railroads the main line is elevated higher than the surrounding scenery. You can model this by doubling up on the use of sub-road bed. An article in the March-April 2013 issue of N-Scale called "Raising the Main" by Matthew Schroedle demonstrates that you can use HO cork for the bottom of the sub-road bed and then put N-scale cork on top of the HO cork to create higher areas for your N-scale railroad. If you're modeling an HO layout, then you would just need to use a wider section of HO cork as your sub-road bed and then add the regular width of HO cork on top of that in order to raise the main line.
---
Spotlight
This section is used to focus attention on outstanding model railroading websites or layouts.
The spotlight in the BYMRR newsletter for this month is the L&K Railroad, an HO scale layout built by George Bloodworth. It features a 28' x 22' basement layout containing industrial areas, a rendition of Baltimore and excellent track work empowered by digital command control from Digitrax. This layout will be featured at the Peachtree Express NMRA national convention and you can find a peek preview of it at www.nmra2013.org. The layout is listed as PTE 2013 Track 3. This contains some still photographs and a link to a YouTube video. An article about this layout also appears in the February 2013 issue of Railroad Model Craftsmen on page 44.
Incidentally, several other videos of layouts that will be available at the Peachtree Express Convention can also be viewed at this location: www.youtube.com/user/NMRA2013
If you have a layout that you think would qualify for this spotlight or if you know someone who does, please send me an email at [email protected].
---
Model Railroading Books!
Learn even more tips and techniques from these great

Model Railroading Books


available through Amazon.com.
Support this newsletter and the Building-Your-Model-Railroad website:

Browse our local online bookstore at the Track Stop.
---
Model Train Supply Store
Trains, tracks, electrical supplies, scenery, tools, paints, weathering supplies, buildings, locomotives with or without DCC, freight and passenger cars.
Available in all scales from 12 major manufactures!
---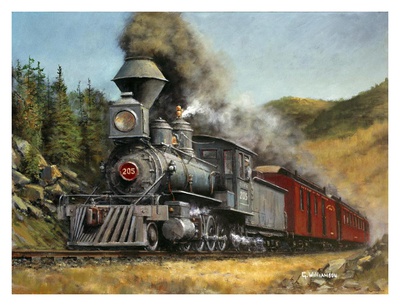 Mountain Goat
George Williamson
Art Print
Put a Poster in Your Train Room!
Great railroad posters and prints are available from art.com...
ART PRINTS - Art.com! - (Type trains in the search box)
Hope you enjoyed this issue of BYMRR-Zine. Feel free to pass it on to your friends, family and other model railroaders. If you have a great tip that you would like to publish here, please let me know - The more, the better. Any comments or suggestions are always welcome. Don't forget to send in YOUR tips! You can either go to the Comments/Contact Page and enter your suggestions there or contact me directly at [email protected]
Thank you for your support and for subscribing to the free BYMRr-Zine, the newsletter for Building Your Model Railroad.
And, as always, thank you for visiting the BYMRR website at
http://www.bymrr.com.
-Greg Warth

---
Copyright 2013. All rights reserved.
---