Building Your Model Railroad
Newsletter - August/September, 2013
WELCOME to the 31th issue of BYMRr-Zine - a free newsletter published by Building Your Model Railroad, devoted to providing breaking news and tips to model railroaders of all ages and all scales in a quick and easy-to-read format. Resources are always credited where appropriate.
Thank you for subscribing. We have lots of new tips and tricks this month to add to your model railroading pleasure.
Sign Up: If this has been forwarded to you by a friend and you have not yet subscribed, click here to get your own version sent to your email box free of charge every month.
Send in Your Tips/Comments/Suggestions: Let me know if you have any tips to pass on to other model railroaders. Just type them in on the Comments Page of the website or send me an email directly to gregwarth@building-your-model-railroad.com. In addition, if there is a particular topic you would like to see appear in the newsletter, let me know about that as well.
Photos: We're always looking for new photos for our Gallery pages. If you have photos of your layout that you would like to share with other model railroaders, I'd love to post them on the site. Send them in to photos@building-your-model-railroad.com
---
NMRA National Convention
Having just recently returned from the convention in Atlanta, my enthusiasm for the hobby has never been higher. I was very impressed with the quality of many of the clinics and feel a lot smarter after learning a huge amount of new and updated information.
I went on several layout tours which were absolutely fantastic. They have re-inspired me to take a fresh look at my own layout. In comparison, I'm happy to say that mine isn't too bad. At least I didn't come back thinking that I have to trash the whole layout and start over. However, there is always room for improvement, and with the new knowledge I have gained, I'm sure I will become a better modeler and the Blue Ridge and Southern is certain to benefit.
Some of the best experiences that I had at the convention were related to conversing with others about their experiences in the hobby. I learned several new ideas and tips just from talking to people on the bus-rides to and from the home layouts. Everyone was very friendly and very willing to share information.
I'm always struck by the fact that this is such an educational hobby, and the people in it are so eager to learn and to teach what they know. It's impossible to learn everything there is to know in model railroading. Even if it were possible, there would be 100 new things to learn the next day. That's part of what makes it always so interesting and challenging.
Railroad history, benchwork, carpentry, artistry, engineering, electronics, automation, problem-solving, computer use, photography, paying attention to details and social skills are just a few of the things that can be learned from this hobby. It has so much to offer every generation. If I had my way, I'd include model railroading as a required course in high school!
The bottom line is that if you really want to have a great vacation, learn a lot, make good friends and become inspired to build and improve your own layout, make it a point to go to the national NMRA convention every year. I've already made plans to go the Cleveland next year. I hope I'll see you there!
---
Computerizing Your Layout
This topic may be very intimidating to some based on its history of being fairly complicated and labor-intensive, but the technology has really become much more user-friendly over the past four years, and definitely deserves another look.
One of the clinics that I attended at the NMRA Convention demonstrated these technological improvements - including the ability to activate turnouts and lights and to control trains using your smartphone or touchpad! JMRI software that allows your computer to "talk" to your layout has improved greatly over the last few years. Other software that can also be downloaded from the Internet - Layout Editor, Control Panel Editor and Decoder Pro (for programming decoders) can all provide a relatively easy way to control your layout from any computer (even easier if it's a touchscreen device). - and it can all be done wirelessly! This essentially makes the physical control panel and the walk-around user-unfriendly DCC throttle almost obsolete.
The hardware required includes a DCC command control station, a computer, a smartphone and a wireless network. If you don't have a spare computer you can use for your train room, don't despair. You can get a very small minicomputer, a little bigger than a credit card, that can do everything you need it to do to run your layout. It's called a Rasberry Pi
, costs less than $50, and contains 2 USB ports - one of which you can use for a keyboard, one for a wireless adapter - an HDMI port, video and audio connectors that you can use to plug into a TV monitor and a slot for an 8G SD card which serves as a solid state hard drive. It is powered by a 5V mini USB power connector, otherwise known as a typical cellphone charger.
The instructions for setup are easy to follow and are readily available on the Internet from the JMRI website and www.rasberrypi.org.
---
What's New at Woodland Scenics?
If you haven't been to the Woodland Scenics website for a while, you're in for a treat. They now have lots of free how-to videos all about developing scenery for your model railroad. It's definitely worth a look.
Also, there are a couple of apps for your smartphone that you can access from there. One is a program to help you keep track of your model railroad inventory. Another is a model scale converter that allows you to convert dimensions from one scale to another easily.
---
Operating Problems
One of the most important things we should do as model railroaders is to keep our trains running and in good operating order. If your trains don't run well, you'll have a hard time explaining why you've spent all this time and effort on a train layout that doesn't even function.
Of course, when you're running trains by yourself, nothing bad ever happens. It's always when you're trying to show it off, or during that all-important operating session, that they don't work right. This is, at the very least, annoying, embarrassing, frustrating and a few other things that I can't mention here.
When laying trackwork and turnouts, running wires and setting up your control panel, take your time, make sure you do it right and don't try to cut corners just to save a little time. This will almost always end up costing you more time, and probably money, later when you have to fix the problem that could have been avoided if you had done it right the first time.
When you think you have everything running right, you should be able to run all your trains forward and backward over the whole layout without a stall or derailment. If you're not able to do that, you have more work to do. Sometimes the gauge isn't right, there's not enough weight in the cars or in the locomotive tender, the points or the guardrails in the turnout may need a little filing. You may have a short in the wiring, or maybe you didn't run enough feeder wires to all the tracks. If you find a glitch or a problem try to fix it right away to get your trains back up and running again as soon as you can. You never know when people are going to want to come over and see your handiwork. You don't want your trains to be caught dead on arrival.
---
Model Railroad Insurance
One of the clinics I attended at the convention in Atlanta was all about the rebuilding of a great model railroad that had previously been featured in Model Railroader magazine, but unfortunately fell victim to a fire in the owner's home. His home was insured, thankfully, but the railroad was not, resulting in the loss of thousands of dollars worth of locomotives, rolling stock, structures, bridges and countless other items.
Model railroad insurance is something I had heard about before but never actually applied for it. It is relatively inexpensive and it would be a shame not to have it if some catastrophe were to occur as it did in that case.
I always thought you had to have a complete inventory of all your equipment in order to get it insured. I probably should have an inventory, but I don't and I didn't really want to spend the time on it right now if I didn't have to. The good news is, you don't have to have your items inventoried, although you can if you wish - and there is a policy for that. But there is also a policy for blanket coverage that doesn't require an inventory.
This is not something we should put off. I'm going to apply right now while I'm thinking about it. Check it out for yourself at J.A.Bash & Company
---
Animated Vehicles*
If you have a city on your layout that you'd like to liven up a bit, you may want to consider adding some cars and trucks that actually move around within the city, stopping intermittently for passengers or traffic lights.
The Faller Car System consists of a steel wire that has to be embedded in the road and special vehicles that each contain a rechargeable battery, motor, steerable front wheels, and on-off switch and a Reed switch.
The best way to get started is to buy the starter kit made by Faller. This kit includes one vehicle, steel wire, plaster for the road and a recharger. Later you can purchase a variety of other cars, trucks and buses as you wish.
During installation, you first have to map out the route, then tape the wire down temporarily and run the vehicle to make sure of the clearances around buildings, etc. Then install the wire more permanently using whatever method you prefer (Faller Streets, plaster, or make your own styrene street and cut grooves to embed the steel guide wire). I've seen a demo of this and it really works well!
---
Light Up Your Scenes*
~Use conductive paint (CircuitWriterTM Precision Pen silver-based 4 grams - CW100P
)in places where you want to conduct electricity but don't want wires to show. For example, you can install a small LED on the top of a non-operating street lamp and apply the conductive paint up the sides of the lamp to power the the bulb (instead of using wires).
~Light up your structures. First, paint the inside black so light won't leak through the plastic walls. Place your lamp at the top of a small tube inside the building, so that that light bulb can't be seen through the windows. Use black construction paper to shield the light from some of the windows, so that the light only appears in some of the windows, not all of them.
~Use small flood lights on the outside of industrial buildings, shining up on them rather than from within. You may even want to use different colored lights in different areas.
~Use neon signs for some of your city buildings. Electroluminescent
sheets can be cut into various shapes.
~Light up your billboards with small floodlights.
~Set up a Christmas Tree in your Central Park and light it up with multiple tiny LEDs; or decorate it with various bits of red, yellow and blue glitter and then shine a small spotlight on it from a nearby building.
---
Create a Rotating Sign*
Rotating signs can be easily created for your gas stations or restaurants. A lot of these appeared in urban areas in the 1950's and '60's.
First you need a low rpm motor, like a Hankscraft 1-rpm switch motor. Mount it under the layout directly under the sign you want to rotate. Drill a small hole under the mast of the sign, Then install a small piece of brass tubing to the motor shaft and connect the other end of the tubing to the mast of the sign. Connect the motor to a 12 volt power supply and your ready to go!
*Reference: KALMBACH 12471 Realistic Animation Lighting/Sound 2nd Edition KALZ2471
---
Spotlight
This section is used to focus attention on outstanding model railroading websites or layouts.
The spotlight in the BYMRR newsletter for this month is the Greeley Freight Station Museum in Greeley, Colorado. Awesome, inspiring scenery! Long trains!
https://www.youtube.com/watch?v=Bhlrv-5o6Tk
If you have a layout that you think would qualify for this spotlight or if you know someone who does, please send me an email at gregwarth@building-your-model-railroad.com.
---
Model Railroading Books!
Learn even more tips and techniques from these great

Model Railroading Books


available through Amazon.com.
Support this newsletter and the Building-Your-Model-Railroad website:

Browse our local online bookstore at the Track Stop.
---
Model Train Supply Store

Buy all your supplies here!
Trains, tracks, electrical supplies, scenery, tools, paints, weathering supplies, buildings, locomotives with or without DCC, freight and passenger cars.
Available in all scales from 12 major manufactures!
---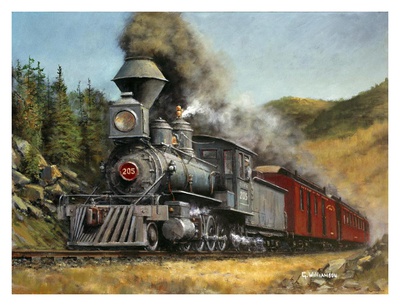 Mountain Goat
George Williamson
Art Print
Put a Poster in Your Train Room!
Great railroad posters and prints are available from art.com...
ART PRINTS - Art.com! - (Type trains in the search box)
Hope you enjoyed this issue of BYMRR-Zine. Feel free to pass it on to your friends, family and other model railroaders. If you have a great tip that you would like to publish here, please let me know - The more, the better. Any comments or suggestions are always welcome. Don't forget to send in YOUR tips! You can either go to the Comments/Contact Page and enter your suggestions there or contact me directly at gregwarth@building-your-model-railroad.com
This newsletter is created for free. If you find that it's entertaining and/or useful, please consider a small donation to support the cost of developing and maintaining it and for the considerable time required in researching and writing the content.
Thank you for your support and for subscribing to the free BYMRr-Zine, the newsletter for Building Your Model Railroad.
And, as always, thank you for visiting the BYMRR website at
http://www.bymrr.com.
-Greg Warth

---
Copyright 2013. All rights reserved.
---